Search Results for co2-emissions
5 item(s) were returned.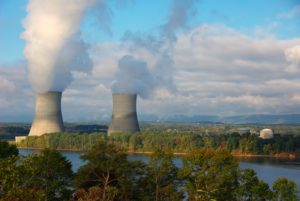 Expert Insight
Author(s): Herschel Specter
President
Micro-Utilities, Inc.
Date: April 4, 2019 at 11:46 AM
With the pressing need to find carbon-free sources of electricity to address climate change, some environmental groups that once opposed nuclear power now see it as essential. While policymakers have dismissed nuclear facilities for safety reasons, the new calculus is that the risk from nuclear power plants is far smaller than generally perceived. Policymakers who write-off nuclear as being too dangerous are doing a major disservice to the public by warding off a safe, effective carbon-free technology. Severe nuclear accidents are rare and extremely unlikely to cause any near-term off-site radiation fatalities or radiation sicknesses. A review of four major… [more]
View Insight
Expert Insight
Author(s): Lorena Roque
MPP Candidate
George Washington University
Date: June 4, 2018 at 9:44 AM
In January, the Bureau of Ocean Energy Management (BOEM) released its "America-First Offshore Energy Strategy," as part of the 2019-2024 National OCS Oil and Gas Leasing Draft Proposal Program (DPP). While the Obama Administration's 2017-2022 program opened up only 6% of total outer continental shelf (OCS) acreage to resource exploration and development, the 2019-2024 Program proposes to open up approximately 90%. The BOEM estimates the U.S. OCS has about 90 billion barrels of undiscovered oil and 327 trillion cubic feet of undiscovered, natural gas. If implemented, the 2019-2024 DPP would dramatically expand America's capacity for offshore oil and gas drilling,… [more]
View Insight
Expert Insight
Author(s): Meredith Fowlie
Associate Professor, Department of Agricultural and Resource Economics
University of California, Berkeley
Date: September 27, 2016 at 11:30 AM
California is experiencing what has been dubbed the worst epidemic of tree mortality in the state's modern history, with the death of an estimated 66 million trees since 2010. There seems to be widespread – but not unanimous – agreement that leaving close to 40 million dry tons of wood in the forest will increase wildfire risk to unacceptable levels. A tree-mortality task force is working to safely remove the dying trees by using the tree services where some of which can be harvested for timber. But given the current trajectory, lots of wood will be burned on-site. This begs… [more]
View Insight
Expert Insight
Author(s): OurEnergyPolicy.org


Date: February 10, 2016 at 2:00 PM
Today the aviation industry is responsible for about 2% of all GHG emissions. Experts predict that by mid-century, this number could triple without policies designed to combat aircraft emissions due to rapid industry growth. In response, the International Civil Aviation Organization's (ICAO) Committee on Aviation Environmental Protection (CAEP) has been negotiating a CO2 emissions standard for aircraft emissions with representatives from its member states, industry and non-governmental organizations. On February 8th, the CAEP unanimously approved a draft measure paving the way for final approval in 2016. If the ICAO emissions standards are approved by the ICAO's 36-State Governing Council, the… [more]
View Insight
Expert Insight
Author(s): James Conca
Senior Scientist
UFA Ventures, Inc.
Date: January 4, 2016 at 12:00 PM
After the events of COP21, the National Hydropower Association's (NHA) goal to expand hydropower in America over the next few decades seems especially important. The existing hydro fleet was constructed over the course of an entire century and constitutes the longest-lived energy facilities in the world. NHA's goal is to double hydropower by adding 60 GW of capacity by 2030 which will produce an additional 300 billion kWhs of electricity each year, without building a single new dam. Energy Secretary, Ernest Moniz agrees, stating, "Hydropower can double its contributions by the year 2030. We have to pick up the covers… [more]
View Insight