Search Results for electricity
58 item(s) were returned.
Discussion
Author(s): Congressman Larry Bucshon, M.D. (R-IN-8)
U.S. House of Representatives
Member, Energy & Commerce Committee
Date: April 12, 2018 at 12:24 PM
It is critical that we ensure our nation enjoys a reliable and resilient grid, and that consumers continue to have access to affordable and reliable electricity. But today, coal-fired power generating plants are being closed at an alarming rate. Since 2010, plants representing almost 108,000 megawatts of coal-fired generating capacity have shut down or announced plans to close. Indiana alone ranks second among all states with 39 coal-fired electric generating plants having already retired. As a supporter of an all-the-above energy strategy, I believe that power generators should rely on a diverse mix of fuel sources. Coal-fired generation is one… [more]
View Discussion
Discussion
Author(s): Herschel Specter
President
Micro-Utilities, Inc.
Date: March 27, 2018 at 11:00 AM
The UN has stated that the World must urgently act to cut a further 25% from predicted 2030 greenhouse gas (GHG) emissions. In the US, GHG emissions today are 4% above 1990 levels and are projected to increase. Based on UN goals, it appears that neither sufficient reductions in the release of GHG nor sufficient mitigations of the effects of climate change are taking place. To achieve those goals an 80% GHG reduction by 2100 would require an average reduction of 64 million metric tonnes each year for the next 82 years, or 165 million metric tonnes each year if… [more]
View Discussion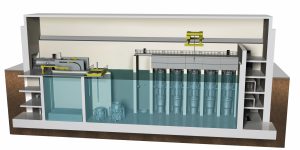 Discussion
Author(s): Dr. Andrew C. Kadak
President
Kadak Associates, Inc.
Date: February 20, 2018 at 11:00 AM
Given the slow and somewhat painful shutdowns of perfectly good operating nuclear plants due to competitive pressures from low priced natural gas and subsidized solar and wind generation, is there a future for new nuclear power plants? The recent experience of cost overruns and schedule delays associated with the 4 large (1200 Mwe) nuclear plants being built now in Georgia and South Carolina is not reassuring. Actually, the two in South Carolina have been essentially cancelled by the owners due to these cost overruns and lack of electricity demand. While natural gas is cleaner than coal from an emissions standpoint,… [more]
View Discussion
Discussion
Author(s): Elias Hinckley
Partner
KL Gates
Date: June 4, 2017 at 10:00 PM
Last month the International Trade Commission (ITC) agreed to proceed with a trade case filed by the bankrupt solar manufacturing American company Suniva. Suniva has claimed that the current import price for certain photovoltaic solar panels is so low that it was damaging the US manufacturing industry and the only way to protect US manufacturers would be to levy a tariff on panel imports – the result would be to more than double the price of solar panels to $0.78/watt. In order to prove its case, Suniva needs to show that the solar manufacturing industry in the US has been,… [more]
View Discussion
Discussion
Author(s): OurEnergyPolicy.org
Administrator
OurEnergyPolicy.org
Date: March 13, 2016 at 11:00 PM
Full Title: Renewable Electricity: Insights for the Coming Decade Author(s): Joint Institute for Strategic Energy Analysis Publisher(s): Joint Institute for Strategic Energy Analysis Publication Date: 02/2015 Full Text: ->DOWNLOAD DOCUMENT<- Description (excerpt): A sophisticated set of renewable electricity (RE) generation technologies is now commercially available. Globally, RE captured approximately half of all capacity additions since 2011. The cost of RE is already competitive with fossil fuels in some areas around the world, and prices are anticipated to continue to decline over the next decade. RE options, led by wind and solar, are part of a suite of technologies and business… [more]
View Discussion
Discussion
Author(s): Congressman Paul Tonko (D-NY)
Chair, Energy & Commerce Subcommittee on Environment & Climate Change, U.S. House of Representatives
Co-Chair, Sustainable Energy & Environment Coalition
Date: February 1, 2016 at 10:00 AM
On a hot day in August 2003, a stretched transmission line tripped after dipping into an overgrown tree in Ohio. Soon after, multiple transmission lines nearby also tripped beginning what would become the second largest blackout at that time in history, impacting eight Northeastern states and Southern Canada. Since this massive blackout, power generation in the United States has changed dramatically both in form and quantity. In 2005, Congress recognized the need for mandatory grid reliability standards and expanded the Federal Energy Regulatory Commission's (FERC) authority to regulate the bulk power system. However, despite FERC's efforts to improve grid reliability,… [more]
View Discussion
Discussion
Author(s): OurEnergyPolicy.org
Administrator
OurEnergyPolicy.org
Date: January 21, 2016 at 1:52 PM
Full Title: "Looking Back … and Looking Ahead": Energy Sector Developments in 2015 That Will Continue to Shape the Energy Sector in 2016 Author(s): Shearman and Sterling LLP Publisher(s): Shearman and Sterling LLP Publication Date: 2015 Full Text: ->DOWNLOAD DOCUMENT<- Description (excerpt): In December 2015, President Obama signed into law H.R. 22, the Fixing America's Surface Transportation Act (FAST Act), authorizing budgetary resources for surface transportation programs for fiscal years 2016-2020, and the Consolidated Appropriations Act, 2016 (Appropriations Act), an omnibus spending bill to fund the federal government through September 30, 2016. The FAST Act also contains provisions intended to improve… [more]
View Discussion
Discussion
Author(s): Ken Carlson
Dr. Ken Carlson
Colorado State University
Date: January 13, 2016 at 3:00 PM
Water and energy networks are inextricably linked. Energy production and electricity generation both require water. Conversely, treatment and distribution of water to consumers and wastewater collection and treatment depend on energy. There are multiple other connections between these two fundamental resources and therefore new paradigms are needed for increased usage efficiencies to minimize energy water conflicts, especially when considering that climate change will significantly impact both. Water has traditionally been abundant in the US, even in drier parts of the country where large, federally funded infrastructure projects have literally made the desert bloom. Energy was also largely readily available so… [more]
View Discussion
Discussion
Author(s): OurEnergyPolicy.org
Administrator
OurEnergyPolicy.org
Date: January 7, 2016 at 1:47 PM
Full Title: Report of the Thermal Energy Task Force Author(s): Maryland Energy Administration Publisher(s): Maryland Energy Administration Publication Date: 2014 Full Text: ->DOWNLOAD DOCUMENT<- Description (excerpt): The General Assembly created the Thermal Energy Task Force ("Task Force") during the 2013 Legislative Session through the passage of SB 797/HB 1084. The legislation requires the Task Force to (1) analyze how to restructure the Renewable Portfolio Standard ("RPS") to incorporate thermal energy sources, including energy generated by wood-derived biomass; (2) determine whether it is appropriate to create a separate compliance tier for thermal energy; (3) determine a method for awarding renewable energy credits… [more]
View Discussion
Discussion
Author(s): OurEnergyPolicy.org
Administrator
OurEnergyPolicy.org
Date: at 11:42 AM
Full Title: Maryland Resiliency Through Microgrids Task Force Report Author(s): Maryland Energy Administration Publisher(s): Maryland Energy Administration Publication Date: 2015 Full Text: ->DOWNLOAD DOCUMENT<- Description (excerpt): Recognizing the value that microgrids can offer to energy surety and resiliency, on February 25, 2014, Governor Martin O'Malley directed his Energy Advisor to lead a Resiliency Through Microgrids Task Force ("Task Force") to study the statutory, regulatory, financial, and technical barriers to the deployment of microgrids in Maryland. The Governor's charge required the Task Force to develop a "roadmap for action" to pave the way for private sector deployment of microgrids across the State. As… [more]
View Discussion