Search Results for
560 item(s) were returned.
Discussion
Author(s): Congressman Larry Bucshon, M.D. (R-IN-8)
U.S. House of Representatives
Member, Energy & Commerce Committee
Date: April 12, 2018 at 12:24 PM
It is critical that we ensure our nation enjoys a reliable and resilient grid, and that consumers continue to have access to affordable and reliable electricity. But today, coal-fired power generating plants are being closed at an alarming rate. Since 2010, plants representing almost 108,000 megawatts of coal-fired generating capacity have shut down or announced plans to close. Indiana alone ranks second among all states with 39 coal-fired electric generating plants having already retired. As a supporter of an all-the-above energy strategy, I believe that power generators should rely on a diverse mix of fuel sources. Coal-fired generation is one… [more]
View Discussion
Discussion
Author(s): Marlo Lewis
Senior Fellow in Energy and Environmental Policy
Competitive Enterprise Institute
Date: April 10, 2018 at 11:39 AM
On Monday, Environmental Protection Agency (EPA) administrator Scott Pruitt announced that the Obama EPA's greenhouse gas emission (GHG) standards for model year 2022-2025 cars and light trucks will be reconsidered by the agency. Critics have pointed out that the stringent Obama era CAFE standards, peaking at 54.5 MPG in 2025, are too strict and potentially price millions of Americans out of the market for new cars while also failing to have a meaningful impact on GHG levels.   Unlike other emissions from motor vehicles, CO2 is not an air contaminant. Yes, it is a greenhouse gas, but so is water… [more]
View Discussion
Discussion
Author(s): Herschel Specter
President
Micro-Utilities, Inc.
Date: March 27, 2018 at 11:00 AM
The UN has stated that the World must urgently act to cut a further 25% from predicted 2030 greenhouse gas (GHG) emissions. In the US, GHG emissions today are 4% above 1990 levels and are projected to increase. Based on UN goals, it appears that neither sufficient reductions in the release of GHG nor sufficient mitigations of the effects of climate change are taking place. To achieve those goals an 80% GHG reduction by 2100 would require an average reduction of 64 million metric tonnes each year for the next 82 years, or 165 million metric tonnes each year if… [more]
View Discussion
Discussion
Author(s): Wayne Winegarden, Ph.D
Senior Fellow, Business and Economics
Pacific Research Institute
Date: March 12, 2018 at 11:00 AM
Electric vehicles are heavily subsidized by the federal, state, and local governments. Based on a study I just completed, the federal subsidies for electric vehicles are worth over $42.7 billion to their recipients over the lifetime of the programs. They include the federal grant and loan programs for manufacturers, and the consumer tax credits worth $7,500 per consumer. State and local governments also provide tax credits to purchase electric vehicles (up to $7,500 per consumer), subsidize investments in charging stations, and even offer perks such as access to HOV lanes, access to free vehicle charging, and free meter parking (in… [more]
View Discussion
Discussion
Author(s): John Scicchitano
Advisor
Ghana Climate Innovation Centre (GCIC)
Date: March 6, 2018 at 10:30 AM
Energy efficiency is a critical clean energy resource supporting domestic and global efforts to achieve sustainability targets. Investments in energy efficiency also produce high economic returns, and these financial benefits are most likely to drive investment decisions. The social benefits of energy efficiency —especially when applied to low income housing—may be even greater. Social benefits include increased quality and quantity of affordable housing due to lower utility bills, job creation, and improved indoor air quality from reduced emissions. Since low income housing is older and less efficient, the economic returns from investments in efficiency are particularly high. For example, 85… [more]
View Discussion
Discussion
Author(s): Nathan Taft
Research Analyst
Fuel Freedom Foundation
Date: February 26, 2018 at 10:30 AM
It seems like every week another major automaker announces it will "electrify" its vehicle lineup. In just the past few months, Mercedez-Benz, Ford, Audi, Maserati, GM, BMW, and more have committed to electrification by adding more electric vehicle (EV) options to their fleet. What makes these announcements particularly intriguing is that many of the automakers are following the electrification model of Volvo. They're not just offering a few brand-new vehicles that run solely on electricity. They're building plug-in hybrid models that can use both gasoline and electricity, and hyper-efficient models that run solely on gasoline but utilize an electric motor… [more]
View Discussion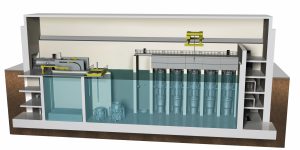 Discussion
Author(s): Dr. Andrew C. Kadak
President
Kadak Associates, Inc.
Date: February 20, 2018 at 11:00 AM
Given the slow and somewhat painful shutdowns of perfectly good operating nuclear plants due to competitive pressures from low priced natural gas and subsidized solar and wind generation, is there a future for new nuclear power plants? The recent experience of cost overruns and schedule delays associated with the 4 large (1200 Mwe) nuclear plants being built now in Georgia and South Carolina is not reassuring. Actually, the two in South Carolina have been essentially canceled by the owners due to these cost overruns and lack of electricity demand. While natural gas is cleaner than coal from an emissions standpoint,… [more]
View Discussion
Discussion
Author(s): Senator Chris Coons (D-DE)
U.S. Senator, State of Delaware
Member, Senate Appropriations
Date: February 8, 2018 at 10:28 AM
Recently, a bipartisan, bicameral bill, the IMPACT for Energy Act, was introduced to establish a nonprofit foundation that will channel private-sector investments that support the creation, development, and commercialization of innovative technologies that address ongoing energy challenges. Today's energy challenges are complex. Viable energy solutions involve multiple partners in government, industry, and academia. The pace and scale of these projects require partnerships between public and private entities to negotiate all stages of the innovation pipeline. While Research, Development, Deployment, & Diffusion (RDD&D) has long relied on public-private partnerships, the U.S. has experienced investment changes. RDD&D is essential for driving innovation and… [more]
View Discussion
Discussion
Author(s): Xiaojing Sun
CTO
The Greenlink Group
Date: February 5, 2018 at 1:15 PM
On January 22nd, President Trump approved a recommendation made by the United States International Trade Commission (ITC) to impose a tariff on imported solar cells and modules. The solar tariffs are set at 30% for the first year and will decline by 5% per year for three subsequent years. President Trump's decision came four months after the U.S. ITC found that, according to a rarely used provision of the Trade Act of 1974, Section 201, the competitiveness of two U.S. domestic solar manufacturers – SolarWorld and Suniva – is negatively affected by low-price imported solar cells and panels. Three recommended… [more]
View Discussion
Discussion
Author(s): Congressman Paul Tonko (D-NY)
Chair, Energy & Commerce Subcommittee on Environment & Climate Change, U.S. House of Representatives
Co-Chair, Sustainable Energy & Environment Coalition
Date: January 22, 2018 at 9:42 AM
In October 2012, Superstorm Sandy wreaked havoc on the northeastern United States. Today, more than five years later, we are only just beginning to see the benefits of long-term recovery efforts coming to fruition, as states and utilities invest in smarter, more resilient grid technologies. It has taken time but a number of states, including my home state of New York, are deploying microgrids and storage resources, and valuing localized generation appropriately while also hardening traditional transmission and distribution infrastructure. These investments will help the grid withstand and recover from future catastrophe, whether a natural disaster, cyber attack, or act… [more]
View Discussion