Search Results for
556 item(s) were returned.
Discussion
Author(s): John Scicchitano
Advisor
Ghana Climate Innovation Centre (GCIC)
Date: March 6, 2018 at 10:30 AM
Energy efficiency is a critical clean energy resource supporting domestic and global efforts to achieve sustainability targets. Investments in energy efficiency also produce high economic returns, and these financial benefits are most likely to drive investment decisions. The social benefits of energy efficiency —especially when applied to low income housing—may be even greater. Social benefits include increased quality and quantity of affordable housing due to lower utility bills, job creation, and improved indoor air quality from reduced emissions. Since low income housing is older and less efficient, the economic returns from investments in efficiency are particularly high. For example, 85… [more]
View Discussion
Discussion
Author(s): Nathan Taft
Research Analyst
Fuel Freedom Foundation
Date: February 26, 2018 at 10:30 AM
It seems like every week another major automaker announces it will "electrify" its vehicle lineup. In just the past few months, Mercedez-Benz, Ford, Audi, Maserati, GM, BMW, and more have committed to electrification by adding more electric vehicle (EV) options to their fleet. What makes these announcements particularly intriguing is that many of the automakers are following the electrification model of Volvo. They're not just offering a few brand-new vehicles that run solely on electricity. They're building plug-in hybrid models that can use both gasoline and electricity, and hyper-efficient models that run solely on gasoline but utilize an electric motor… [more]
View Discussion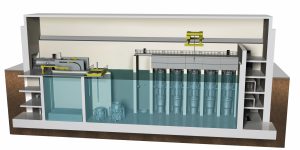 Discussion
Author(s): Dr. Andrew C. Kadak
President
Kadak Associates, Inc.
Date: February 20, 2018 at 11:00 AM
Given the slow and somewhat painful shutdowns of perfectly good operating nuclear plants due to competitive pressures from low priced natural gas and subsidized solar and wind generation, is there a future for new nuclear power plants? The recent experience of cost overruns and schedule delays associated with the 4 large (1200 Mwe) nuclear plants being built now in Georgia and South Carolina is not reassuring. Actually, the two in South Carolina have been essentially canceled by the owners due to these cost overruns and lack of electricity demand. While natural gas is cleaner than coal from an emissions standpoint,… [more]
View Discussion
Discussion
Author(s): Senator Chris Coons (D-DE)
U.S. Senator, State of Delaware
Member, Senate Appropriations
Date: February 8, 2018 at 10:28 AM
Recently, a bipartisan, bicameral bill, the IMPACT for Energy Act, was introduced to establish a nonprofit foundation that will channel private-sector investments that support the creation, development, and commercialization of innovative technologies that address ongoing energy challenges. Today's energy challenges are complex. Viable energy solutions involve multiple partners in government, industry, and academia. The pace and scale of these projects require partnerships between public and private entities to negotiate all stages of the innovation pipeline. While Research, Development, Deployment, & Diffusion (RDD&D) has long relied on public-private partnerships, the U.S. has experienced investment changes. RDD&D is essential for driving innovation and… [more]
View Discussion
Discussion
Author(s): Xiaojing Sun
CTO
The Greenlink Group
Date: February 5, 2018 at 1:15 PM
On January 22nd, President Trump approved a recommendation made by the United States International Trade Commission (ITC) to impose a tariff on imported solar cells and modules. The solar tariffs are set at 30% for the first year and will decline by 5% per year for three subsequent years. President Trump's decision came four months after the U.S. ITC found that, according to a rarely used provision of the Trade Act of 1974, Section 201, the competitiveness of two U.S. domestic solar manufacturers – SolarWorld and Suniva – is negatively affected by low-price imported solar cells and panels. Three recommended… [more]
View Discussion
Discussion
Author(s): Congressman Paul Tonko (D-NY)
Chair, Energy & Commerce Subcommittee on Environment & Climate Change, U.S. House of Representatives
Co-Chair, Sustainable Energy & Environment Coalition
Date: January 22, 2018 at 9:42 AM
In October 2012, Superstorm Sandy wreaked havoc on the northeastern United States. Today, more than five years later, we are only just beginning to see the benefits of long-term recovery efforts coming to fruition, as states and utilities invest in smarter, more resilient grid technologies. It has taken time but a number of states, including my home state of New York, are deploying microgrids and storage resources, and valuing localized generation appropriately while also hardening traditional transmission and distribution infrastructure. These investments will help the grid withstand and recover from future catastrophe, whether a natural disaster, cyber attack, or act… [more]
View Discussion
Discussion
Author(s): Devin Hartman
President & CEO
The Electricity Consumers Resource Council
Date: January 16, 2018 at 10:15 AM
On January 8, the Federal Energy Regulatory Commission (FERC) voted unanimously to reject the Department of Energy's (DOE) proposed rulemaking on grid reliability and resilience pricing. The rule would have provided cost recovery to power plants holding 90 days of on-site fuel supply. Only nuclear and select coal facilities would have qualified. Rather than create a new power market product or refine the pricing rules of existing products, the proposal departed from principles of electricity market design by subsidizing power plants with a specific characteristic. FERC's ruling confirmed that both the goal – promoting 90 days of on-site fuel –… [more]
View Discussion
Discussion
Author(s): OurEnergyPolicy.org
Administrator
OurEnergyPolicy.org
Date: December 19, 2017 at 11:30 AM
On Friday, GOP negotiators released their Conference Report (Report) reconciling House and Senate versions of the Tax Cut and Jobs Act. The tax bill would affect U.S. energy policy in several ways, impacting electric vehicles (EV), the clean energy industry, as well as oil & gas operations. Now that a deal is complete, two significant energy-related items, the Base Erosion Anti-Abuse Tax and the opportunity to drill in the Arctic National Wildlife Refuge, are likely to become law very soon. Base Erosion Anti-Abuse Tax: To offset U.S. tax liability, multinational companies often make payments to overseas affiliates and also purchase… [more]
View Discussion
Discussion
Author(s): Henry M. Goldberg
Consultant
Independent
Date: December 4, 2017 at 10:00 AM
The United States and world are facing a crisis of enormous magnitude if the global warming problem is not addressed properly.  Every country in the world, except the current U.S. administration, supports the Paris climate agreement goal limiting the rise in global average surface temperature to 2°C (3.6°F).  The consequences of failure could be a catastrophic future: Flooding from rising sea levels, more severe hurricanes/heat waves/wildfires, crop failures and droughts, and greater stress on an already aging infrastructure. Climate scientists generally agree carbon emissions should be reduced to near zero by mid-century to avert catastrophic global warming. But the voluntary… [more]
View Discussion
Discussion
Author(s): Congressman Raúl Grijalva (D - AZ)
Ranking Member - Subcommittee on Public Lands and Environmental Regulations
U.S. House of Representatives
Date: November 27, 2017 at 10:00 AM
Donald Trump claims to have an "America First" energy plan. His administration's actions over the past 10 months have made it clear that what he truly puts first are the interests of oil, gas and coal executives. Everyday Americans and our iconic American landscapes come last, if he considers them at all. Republicans used to label their policies "energy independence" and now call it "energy dominance," but it looks more like the ransacking of our public lands and the fleecing of American taxpayers. The public wants a smarter way forward – an energy strategy that prioritizes renewables, takes climate change… [more]
View Discussion